WARNING: This article may contain spoilers!
10 PM is the fifth hour of Emily Wants To Play Too.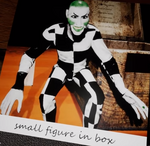 Description
In this hour, the protagonist must explore Area 3 and locate the clearance Level 4 Keycard. Weasl inhabits Area 3 in various spots and must be avoided as usual. Unlike the previous hours, the player is required to backtrack to Area 1 to reach another section of Area 3 that is inaccessible through any other means. The player must locate the Level 4 Keycard in this section of Area 3, then travel back through the Areas and enter Area 4. Entering Area 4 will progress the game to 10:30 PM. Max, Greta and Mr. Tatters all inhabit Area 2, Area 1, and the Entrance Area, respectively, but Chester now roams the Entrance Area as well.
Rules
Locate the Level 4 Keycard and enter Area 4.
Players must disable Weasl's music box before the song ends.
Players must shine their flashlight at Max if they encounter him in the dark. (Area 2)
Players must stare at Kiki until she disappears. (Area 2)
Players cannot run or make any physical noise around Greta. (Area 1)
Mr. Tatters must be tagged before his cycle ends. (Entrance Area)
Players must run from Chester if he spawns. (Entrance Area)
10:30 PM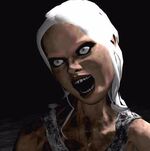 At 10:30 PM, the protagonist must locate the power switch in Area 4 and re-enable the building's power. Going to the left of the Power Room will cause Emily to burst through the wall and begin chasing the player around the building. When this happens, all the other antagonists disappear. The player must run from Emily and survive for a certain time to reach 11 PM. If the player goes to the right of the Power Room instead and exits Area 4, all the other antagonists will still be active, despite the power being restored. 
10:30 PM Rules
Players must not let Emily catch them.
Players must disable Weasl's music box before the song ends. (Area 3) (Before Emily Appears)
Players must shine their flashlight at Max if they encounter him in the dark. (Area 2) (Before Emily Appears)
Players must stare at Kiki until she disappears. (Area 2) (Before Emily Appears)
Players cannot run or make any physical noise around Greta. (Area 1) (Before Emily Appears)
Mr. Tatters must be tagged before his cycle ends. (Entrance Area) (Before Emily Appears)
Players must run from Chester if he spawns. (Entrance Area) (Before Emily Appears)
Next Hour (11 PM)
Previous Hour (9 PM)