WARNING: This article may contain spoilers!
9 PM is the fourth hour of Emily Wants To Play Too.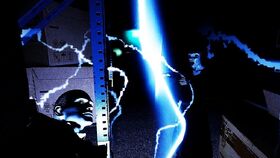 Description
In this hour, the protagonist must enter the warehouse section of Area 2. The Player must find the clearance Level 3 Keycard and flashlight. Kiki can be seen bringing Maxwell Steele's disguise to life with a ritual. Walking close enough inside the warehouse will cause Kiki to turn her head around and laugh. This also causes the building's power to disable, permanently. Kiki's first laugh, however, does not signify that she's appeared behind you. The player must pick up the flashlight and locate the Level 3 Keycard to enter Area 3. Entering Area 3 will progress the game to 10 PM. Mr. Tatters and Greta continue to roam the Entrance Area and Area 1, respectively, if the player were to backtrack.
Rules
Locate the Level 3 Keycard and progress to Area 3.
Players must shine their flashlight at Max if they encounter him.
Players must stare at Kiki until she disappears.
Mr. Tatters must be tagged before his cycle ends (Entrance Area).
Players cannot run or make any physical noise around Greta (Area 1).
Next Hour (10 PM)
Previous Hour (8 PM)